History of creation and publication
O. Henry wrote "The Ransom of Red Chief" in 1910 and it was first published in The Saturday Evening Post on July 8, 1910. It was later included in O. Henry's collection of short stories, Whirligigs, which was published by Doubleday Page & Company in 1910. The story has since been reprinted numerous times and is one of O. Henry's most popular works.
Genre and literary direction
"The Ransom of Red Chief" by O. Henry is a short story in the genre of comedy and satire, belonging to the literary direction of American Realism.
Theme
The main theme is the consequences of rash decisions.
Two criminals attempt to kidnap a young boy for ransom, only to find that the boy is more trouble than he's worth.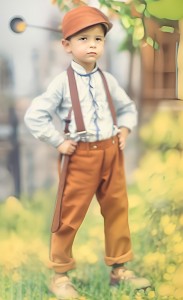 Plot
Bill and Sam, two small-time criminals, decide to kidnap a young boy from the town of Summit in order to extort money from his wealthy father. They take the boy, Red Chief, back to their hideout and attempt to negotiate with his father for a ransom. However, Red Chief proves to be more trouble than they bargained for; he is unruly and mischievous and causes all sorts of chaos in their hideout. Eventually they are forced to pay his father not only the original ransom but an additional fee just so that they can get rid of him.
Composition
"The Ransom of Red Chief" is written as a short story with an ironic twist at the end. It follows Bill and Sam as they plan their kidnapping scheme and then deal with its unexpected consequences when things don't go according to plan. The story also contains elements of comedy as it highlights how these two criminals are outsmarted by a young child who proves himself far more clever than either one had anticipated.
Main characters
Bill Driscoll: A small-time criminal who, along with his partner Sam, kidnaps a young boy named Red Chief in order to extort money from the boy's father.
Sam: Bill Driscoll's partner in crime who helps him kidnap Red Chief and hold him for ransom.
Red Chief: The young son of a wealthy family who is kidnapped by Bill and Sam and held for ransom. He quickly proves to be more trouble than he is worth, driving the two criminals to desperation as they try to get rid of him without losing their ransom money.